Venturi Blower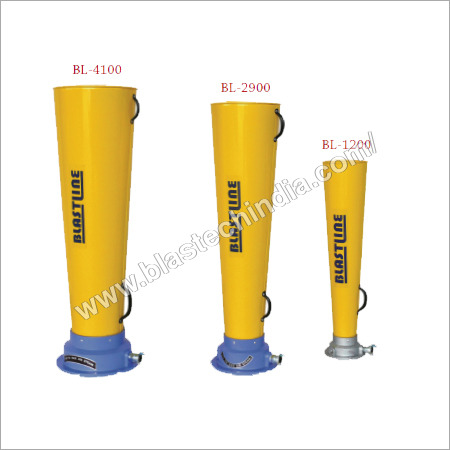 Venturi Blower
Product Description
Our skilled professionals are able to manufacture and exporting high-grade Blastline Ventilation Systems. These systems are applicable in various industries to ventilate toxic vapors and fumes. These products are manufactured by our expert professionals by making use of high-grade aluminum and other materials which are sourced from the reputed vendors of the market. Keeping in mind, the various requirements of our valued customers, we are able to offer these Blastline Ventilation Systems in various sizes.
Venturi Blower (Air Horns) Features
Used to hazardous vapors or fumes safely.
Can be used as blower or exhauster
No moving parts
Lightweight cast aluminum base
Static grounding lug is standard
Operates on compressed air or steam
Induction ratios upto 40:1
Accepts flexible duct on diffuser end
Operating efficiency depends on compressed air volume and pressure
Venturi Blower Specifications
Model

Overall length

Diameter of Base

Diameter
Top of Horn

NPT
Size

Bolt Circle
Diameter

Base Slot
Diameter

BL-1200

30.50"

7.31"

7.0"

1/2"

6.56"

0.4"

BL-2900

44.25"

11.25"

12.5"

1"

10.50"

0.4"

BL-4100

46.06"

14.37"

14.25"

1"

13.62"

0.5"

Blastline Pneumatic Circular Jet Fans
Use for general ventilation in any location where compressed air is available. These fans are suited for ventilation of tanks, vessels or other confined areas for the removal of hazardous fumes or contaminated air from welding, abrasive blasting and other operatons
Ventilation Ducting
A large selection of flexible air duct for a variety of ventilation applications is available
20" & 24" diameter
10,400 - 16,00 cfm free air @ 40-110 psi input pressure and 60-290 cfm flow
cast aluminum housing and fan blade