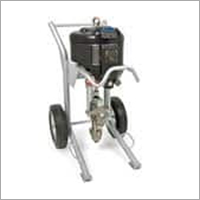 Airless Painting Machine
Product Code : 05
Product Description
We are offering a good range and good quality types of Airless Painting Machine.

Features:
Superior Performance -10% more pressure and improved flow.
Lower Maintenance Costs-Finish routine maintenance and repairs in half the time of competitors' pumps.
Longer Life - Plasma Coat TM rods and X tream Seal TM packings more than double the life of the pump.
Technical Specification
Model

Maximum working
pressure
psi(bar, mpa)

Output per cycle
cc

Max free flow output
gpm (lpm)

Output at 60 cpm gpm (lpm)

Air motor size

x25

x30
x35

x40

x45

x46

x50

x55

x60

x70

x90

2375(164, 16. 4)

3150 (217, 21. 7)

3800 (262, 26. 2)

3800 (262, 26. 2)

4550 (313, 31. 3)

4750 (327, 32. 7)

5200 (359, 35. 9)

5950 (410, 41. 0)

6000 (417, 41. 7)

7250 (500, 50. 0)

7250 (500, 50. 0)

290cc

220cc

115cc

180cc

290cc

145cc

250cc

115cc

220cc

180cc

145cc

13. 8 (52. 2)

10. 0 (38)

6. 0 (22. 7)

8. 5 (32)

13. 8 (52. 2)

7. 5 (28)

11. 3 (43)

6. 0 (22. 7)

10. 0 (38)

8. 5 (32)

7. 5 (28)

4. 6 (17)

3. 4 (12. 9)

2. 0 (7. 6)

2. 9 (11. 0)

4. 6 (17)

2. 3 (8. 7)

4. 0 (15. 2)

2. 0 (7. 6)

3. 4 (12. 9)

2. 9 (11. 0)

2. 3 (8. 7

nxt 3400

nxt 3400

nxt 2200

nxt 3400

nxt 6500

nxt 3400

nxt 6500

nxt 3400

nxt 6500

nxt 6500

nxt 6500
Contact Us
102, Dattar Mansion, C.S. Marg, Vakola Bridge, Santacruz East, Mumbai, Maharashtra, 400055, India
Phone :+917259411249